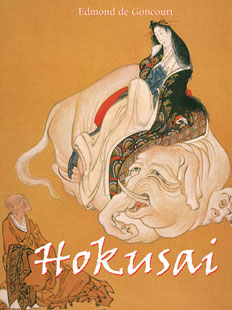 Without a doubt, Katsushika Hokusai is the most famous Japanese artist since the middle of the nineteenth century whose art is known to the Western world. Reflecting the artistic expression of an isolated civilisation, the works of Hokusai, one of the first Japanese artists to emerge in Europe, greatly influenced
the Impressionist and Post-Impressionist painters, such as Vincent van Gogh. Considered during his life as a living Ukiyo-e master, Hokusai fascinates us with the variety and the significance of his work, which spanned almost ninety years and is presented here in all its breadth and diversity.


About the author:
Friend of Émile Zola, Gustave Flaubert and Alphonse Daudet, Edmond de Goncourt was a French writer belonging to the naturalist movement. Eyewitness to the events of the worldly and artistic life of the second half of the nineteenth century, his major work remains the Journal written with his brother, Jules. Beginning in 1850, they collaborated on history books, most notably treating painting, such as Eighteenth Century Art. Impassioned by the delicate beauty of the Japanese woodblock prints, Edmond de Goncourt became, through his monographs on Utamaro and Hokusai, one of the first to reveal the magnificence of this art to the Western world.
ISBN:
9781780429960
出版日期 :
2013-08-05