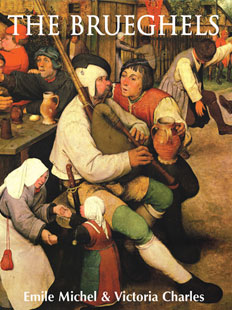 Pieter Brueghel was the first important member of a family of artists who were active for four generations. Firstly a drawer before becoming a painter later, he painted religious themes, such as Babel Tower, with very bright colours. Influenced by Hieronymus Bosch, he painted large, complex scenes of peasant life and scripture or spiritual allegories, often with crowds of subjects performing a variety of acts, yet his scenes are unified with an informal integrity and often with wit. In his work, he brought a new humanising spirit. Befriending the Humanists, Brueghel composed true philosophical landscapes in the heart of which man accepts passively his fate, caught in the track of time.


About the authors:
Emile Michel, the honorary chairman of the University of Amsterdam, he is one of the most eminent specialists of Flemish painting. Indeed, with his writings Rembrandt's Masterworks and Rubens: His Life, Works and Times, he remains a reference in this domain. His work on the Brueghel family is a brilliant analysis as well as a colourful family portrait.

Victoria Charles received her PhD in art history. She has published extensively on art history and has contributed to Art Information, an international guide to contemporary art. She is a regular contributor to journals and magazines. She recently contributed to a collective work, 1000 Paintings of Genius.

ISBN:
9781780429885
出版日期 :
2013-08-16